Wheelchair Injuries are a Problem in Nursing Homes
Injuries from wheelchairs, and other medical equipment occur far to frequently in nursing homes, assisted living or other elder care facilities or home health care setting.  Most wheelchair injuries involve a easily preventable mistake such as failing to lock the wheels before transfers, accidents with power wheelchair joy-sticks being bumped by mistake, as well as pressure ulcers and wound from prolonged sitting or issues with the seat surface, such as a failure to provide or properly install a "doughnut" cushion.
Wheelchair Injuries – Federal Regulations Require Nursing Homes to Take Reasonable Measures to Prevent Accidents
A nursing home must ensure that the resident receives adequate supervision and assistive devices to prevent accidents. 42 CFR §483.25 (h)
(h) Accidents. The facility must ensure that—
(1) The resident environment remains as free of accident hazards as is possible; and
(2) Each resident receives adequate supervision and assistance devices to prevent accidents.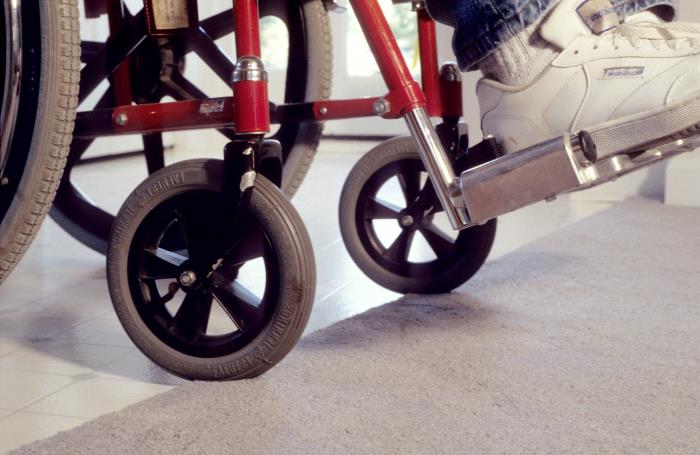 Wheelchair Injury is Preventable
Proper training of staff and taking time to ensure transfers are done safety along with monitoring of residents can prevent most wheelchair injuries, some of which are often result in fracture or other serious injury.
Wheelchair safety is becoming an increasingly important topic as more wheelchair users become independent and lead on-the-go lifestyles.  Proper use, handling and maintenance of your wheelchair are essential to staying safe and avoiding injury.
It is important to always maintain your center-of-gravity. Use a positioning belt if there is one available with your mobility chair.
Daily activities will require you to transfer in and out of your wheelchair, reach for items, and bend forward.  For wheelchair safety, practice completing these actions in someone's presence prior to attempting them on your own.
When you reach, lean, or bend forward, always use the wheel locks or brakes and maintain a firm, balanced seat position. Never reach between your knees or move forward in your seat to pick up an object.
Prior to attempting to ride on ramps, inclines, or declines, determine your capabilities by first practicing with an attendant.  Never attempt to go up a steep slope alone. Before traversing a pathway, road or sidewalk, look for uneven surfaces, spills, holes or obstacles before proceeding.
Don't attempt to go up a curb or tip your wheelchair without the assistance of an attendant. And it is always safer to find your way around a curb rather than go up it.  Look for a nearby ramp, curb cut, or elevator.
If you have a power wheelchair, program the speed so that it does not go any faster than you can handle, particularly when going in reverse.
Keep the power of your wheelchair off prior to transferring or using a ramp or lift because it can be dangerous if you bump into your joystick when the power is on.
Another great resource on Wheelchair Injuries is Ride Safe
Ride Safe – when traveling in a motor vehicle, it is generally safest for wheelchair users to transfer to a vehicle seat and use the vehicle seatbelt system or a child safety seat that complies with federal safety standards. The wheelchair should then be stored and secured in the vehicle.  If transferring is not feasible, it is very important to secure the wheelchair to the vehicle facing forward and to use crash-tested seatbelts for the wheelchair-seated rider.
This website presents information on selecting wheelchairs and tiedown equipment, securing wheelchairs in vans and buses, and properly restraining the rider. Follow the links at the left or click here to see step-by-step procedures.
Wheelchair Transportation Safety from Ride Safe – Wheelchair Injuries
Step 1: Start with the right equipment
Step 2: Secure the wheelchair
Step 3: Restrain the rider
If you or someone you love is currently struggling with concerns related to nursing home abuse or neglect, please call for a free no obligation consultation to see if we can assist in holding the facility accountable. An experienced nursing home neglect attorney will provide you with the answers, the advice and the representation you are looking for during this tough time. Contact Attorney Kenneth LaBore at 612-743-9048 or Toll Free at 1-888-452-6589.  Email:KLaBore@MNnursinghomeneglect.com.
Disclaimer
Wheelchair Injuries in Minnesota Nursing Homes